14a) Bellows Falls--Vilas Bridge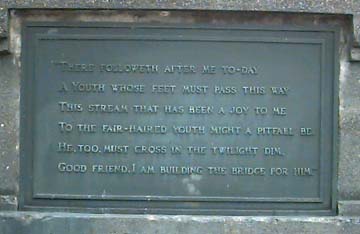 There followeth after me to-day
"A Youth whose feet must pass this way
This stream that has been a joy to me
To the fair-haired youth might a pitfall be
He, too, must cross in the twilight dim
Good friend, I am building the bridge for him."
(whole poem is at bottom of page)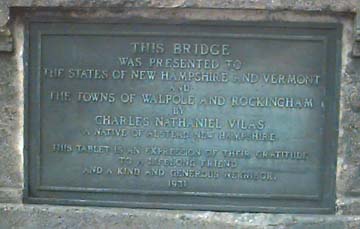 This Bridge
was presented to
the states of New Hampshire and Vermont
and
the towns of Walpole and Rockingham
by
Charles Nathaniel Vilas
a native of Alstead, New Hampshire
This tablet is an expression of their gratitude
to a lifelong friend
and a kind and generous neighbor.
1931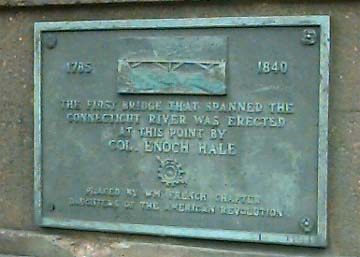 1785 1840
The first bridge that spanned the
Connecticut River was erected at this point by
Col. Enoch Hale
*
Placed by Wm. French Chapter
Daughters of the American Revolution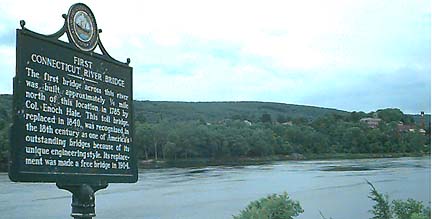 FIRST
CONNECTICUT RIVER BRIDGE
--- ---
The first bridge across this river was built approximately 1/4 mile north of this location in 1785 by Col. Enoch Hale. This toll bridge, replaced in 1840, was recognized in the 18th century as one of America's outstanding bridges because of its unique engineering style. Its replacement was made a free bridge in 1904.
(This is the New Hampshire historic marker by the downstream portage access. Note the Town Hall clock tower across the river at right.)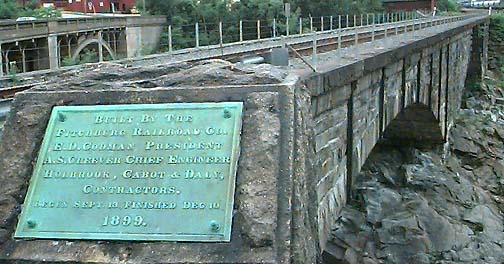 Built by the
Fitchburg Railroad Co.
E.D. Codman President
A.S. Cheever Chief Engineer
Holbrook, Cabot & Daly,
Contractors.
Begun Sept. 13 Finished Dec. 10
1899

This is the stone arch railroad bridge next to the Vilas Bridge. This plaque, on a freestanding granite block, is hidden behind the highway guardrail.
---
Here's the whole poem that's excerpted on one of the plaques.
THE BRIDGE BUILDER
Will Allen Dromgoole
And old man, going a lone highway,
Came at the evening, cold and gray,
To a chasm, vast and deep and wide,
Through which was flowing a sullen tide.
The old man crossed in the twilight dim-
That sullen stream had no fears for him;
But he turned, when he reached the other side,
And built a bridge to span the tide.

"Old man," said a fellow pilgrim near,
"You are wasting strength in building here.
Your journey will end with the ending day;
You never again must pass this way.
You have crossed the chasm, deep and wide,
Why build you the bridge at the eventide?"

The builder lifted his old grey head.
"Good friend, in the path I have come," he said,
"There followeth after me today
A youth whose feet must pass this way.
This chasm that has been naught to me
To that fair-haired youth may a pitfall be.
He, too, must cross in the twilight dim;
Good friend, I am building the bridge for him."

Will Allen Dromgoole (1860-1934) was a columnist for the Nashville Banner. She (yes, she) wrote much about her home state of Tennessee.
---
Back to Great Falls and Gorge
[Previous: Bellows Falls Canal] [Next: Indian Petroglyphs]
[Bellows Falls Historic District] [Map]
---
More pictures of the Gorge