The Bellows Falls Mural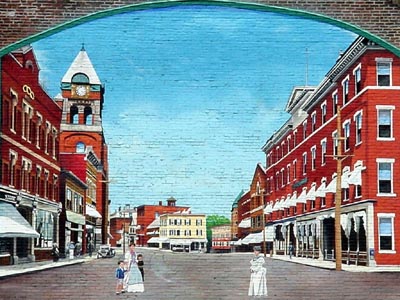 The Bellows Falls Mural, painted on the south wall of 52 Square (the "Old Flat Iron Building" or "Pharmacy"), was commissioned by the Rockingham Arts and Museum Project (RAMP website) in 2000. Ezra Veitch designed the 32' x 40' mural and Art of Life muralists Cliff Clear and Bonnie Lee Turner painted it.

The scene is the Square 100 years earlier, about 1900. You walk a few steps north to compare this scene to today. Visit the mural at 11:56 any morning to see the Amtrak train emerge from the tunnel. Be patient; it might be closer to 12:20.

The closest building on the right is the old "Windham" hotel, now the popular music spot. The yellow building is Sovernet's headquarters, looking no different today.

Funding came from the Vermont Arts Council, the Town of Rockingham, the Windham Foundation, the Vermont Community Foundation, RAMP, and private donations. See the September 1, 2000 Bellows Falls Town Crier for an article.
---
Download:
1024 x 768 jpg image, suitable as a desktop background on most computers. Click on the link and then right-click on the big image. Choose "Set as background".
The above image is darkened to ensure that you can still see the clutter of your computer desktop.
[Bellows Falls Historic District Home]
---
Photos and web page by Dan Axtell
www.danaxtell.com