11) Miss Bellows Falls Diner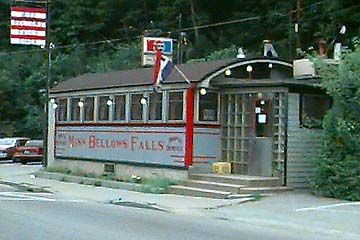 Built in the late 1920's by the Worcester Lunch Car Company, Vermont's only surviving barrel-roofed diner was moved here from Massachusetts in 1942. (Look for part of an earlier name painted on the back.) Descendants of horse-drawn lunch carts, diners sought respectability by evoking the romance and dignity of railroad dining cars. Listed on the National Register of Historic Places, the Miss Bellows Falls wears porcelain panels and railroad-style windows on the outside, and inside still has her original marble counter, tile floor, and oak and chrome details.
[Previous: Rockingham Canal House] [Next: Canal Operators' Houses]
[Bellows Falls Historic District] [Map]
Miss Bellow Falls Diner Website -- www.missbellowsfallsdiner.com
The Miss BF is renovated and reopened. See the article in the Oct. 21, 2005 Brattleboro Reformer.
The Connecticut River Joint Commissions website has a Miss BF web page with much more detail.
The Miss BF was offered on eBay once. See the Brattleboro Reformer 23 April 1999.
[Note: Roadside Magazine said the structure was built about 1938, possibly replacing an earlier diner. That's still good enough to qualify as a Historic Landmark, though.]
---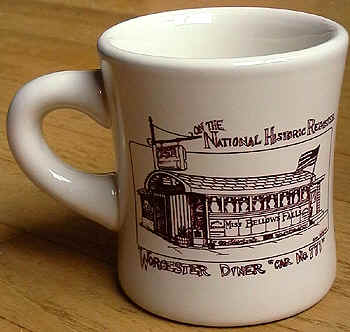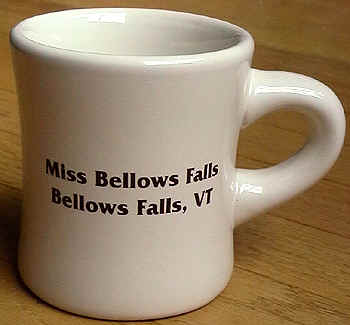 This mug is available at the diner and nowhere else. You'll just have to stop by. The T-shirt is good, too.