1) Immanuel Church
Bell Tower Restoration!
The State of Vermont, Division of Historic Preservation is contributing one third of the cost, but $30,000 needs to be raised. Upcoming benefits in 2006 and 2007 are listed on the Immanuel Church web page of Virtuous.com including dinners, concerts and an auction. Note that this is the stone church of Stone Church Arts. Don't be heading up to Chester.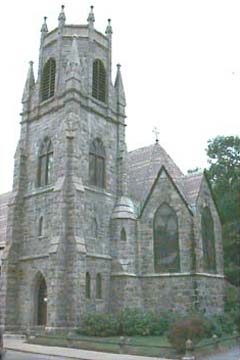 Constructed between 1863 and 1867, the church was designed by noted architect Richard Upjohn, who was a personal friend of the pastor. Upjohn was responsible for popularizing the Gothic Revival style in American ecclesiastic architecture. His most famous work is New York City's Trinity Church on lower Broadway, built some twenty years earlier than this church. With its buttresses, pointed arches, and belfry tower, the church recalls Medieval forms. The Immanuel parish was established in 1798 by Dr. Samuel Cutler.
[Next: The Stairs]
[Bellows Falls Historic District] [Map]
---
Pictures of Hetty Green's gravestone in the Church's graveyard, the final resting place for "the Witch of Wall Street"