13) Bellows Falls Canal
Possibly the oldest U.S. canal still used industrially. See list of "first" canals in the U.S.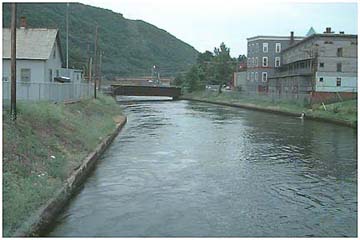 The Connecticut was the first major river in the country to be improved for travel, with about 250 miles open to navigation by 1810. Constructed between 1791 and 1802, this canal was among the first in America and was a major influence on the growth of the village because it also provided power for many mills (see #19, Adams Grist Mill and Museum). Produce and lumber were brought downriver on flat-bottomed boats propelled with long poles, square sails, and the current. Here, avoiding the river gorge, boats passed through eight locks with a total elevation of 52 feet. The coming of railroads in the 1840s brought the era of slower canal boats to an end, but this canal, enlarged several times since, now serves modern needs (see #17, Fish Ladder & New England Power Company Visitor's Center).
[Previous: Canal Operators' Houses] [Next: Great Falls and Gorge]
[Home: Bellows Falls Historic District] [Map]
---
See also
More pictures of the canal and historic marker (claiming "first Canal in United States")
Some Canal-Related Links from the staff at Erie Lock 2.