1) Immanuel Church, Hetty Green Gravestone
"The Witch of Wall Street" has been reprinted and is now available at area bookstores!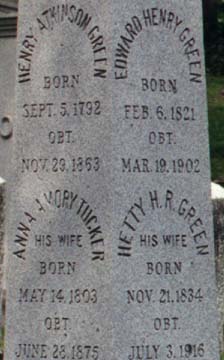 Hetty Green's Gravestone:
EDWARD HENRY GREEN
BORN
FEB. 6, 1821
OBT.
MAR. 19, 1902

HETTY H.R. GREEN
HIS WIFE
BORN
NOV. 21, 1834
OBT.
JULY 3, 1916


The Town Hall's clock tower really is visible from almost every approach to the Square. Hetty Green's gravestone is the tall one next to the tree.

[Next: The Stairs]
[Bellows Falls Historic District] [Map]
---